FORECLOSED PROPERTIES: UnionBank's Luzon Auction 24th March 2012
Front Page
Balita Pinoy
Immigration Advice
OFW/PHL News
UK Immigration
Mindanao Cross
OFW Journalism
Foreclosure News
Press Releases
Video News
Embassy News
Archived News
Domestic Workers
Help Wanted
CV's/Work Wanted
Ressie Reyes
Migration Advisors
Advertise
Contact
Kalayaan
Missing Persons
Humor
World Remit
OrbitRemit
I Remit
Migration Lawyers
Bison UK
Scandals
About Us
Philippines Tourism
Savory Recipes 1
Dessert Recipes 1
Events
Philippine Cuisine
Services
Juana Change
Recipe Submissions
Wiki Recipes
Sinigang
Philippine Recipes
Shrimp Scampi
UK Immigration Free Advice
USA Immigration Free Advice
Irish Immigration Free Advice
Female
UK Trade Leads
Trade Leads
Free UK Immigration Advice On Permanent Residency March 22, 2012
UK Domestic Vacancy: Baby Nanny/Housekeeper, Central London (Mayfair) March 22, 2012
Pinoy Bayanihan In Barcelona Cafe March 23, 2012
A Pinoy Seafarer's Life Ashore After Years On Ships March 23, 2012
UK DOMESTIC VACANCY: Committed Couple For Housekeeping & Other Duties In Surrey March 25, 2012 UK Immigration News & Matters March 24, 2012 UKBA's Tier 4 Visa Shambles Exposed By British Parliamentary Watchdog March 26, 2012 Philippines' Stance On Tuna Fishing Could Backfire March 26, 2012 Maguindanao Massacre Godfather Pleads Not Guilty To Electoral Fraud March 27, 2012 UK DOMESTIC VACANCY: Child Friendly Housekeeper, Live-In, West London March 28, 2012 Applications Invited To Join Cultural Cruise On The Fuji Maru March 28, 2012 UK DOMESTIC VACANCY: Carer/Companion, South London, Live-In or Live-Out March 28, 2012 E-book Covers Traditional Easter Week Festivities in Marinduque Town Of Mogpog March 28, 2012 UK DOMESTIC VACANCY: Live-In Nanny/Housekeeper, South West London March 28, 2012 Free UK Immigration Advice: EU Citizen Married To Non-EU Spouse Moving To Britain March 29, 2012 Hong Kong's Filipino Domestics Lose Residency Court Action March 29, 2012 UK DOMESTIC VACANCY: Nanny/Housekeeper, Live-In, London March 30, 2012
UnionBank of the Philippines will conduct another half-day Public Auction of real estate properties on 24 March 2012 (Saturday) at 29th Floor UnionBank Plaza, Meralco Avenue corner Onyx Road, Ortigas Center, Pasig City at 9:00 AM.
Just bring PhP 20,000 show money (cash or manager's check) to qualify to bid for each property. The sale is on "as is where is" basis.
The properties for bidding consist of residential lots, house and lots, townhouses, condominium units, residential buildings, commercial lots, industrial lots, agricultural lots, commercial space, and industrial / commercial warehouses. These properties are available for sale at reasonable prices. We offer 5% discount on cash sales and affordable credit terms, are below.
Have You Been Affected Click Here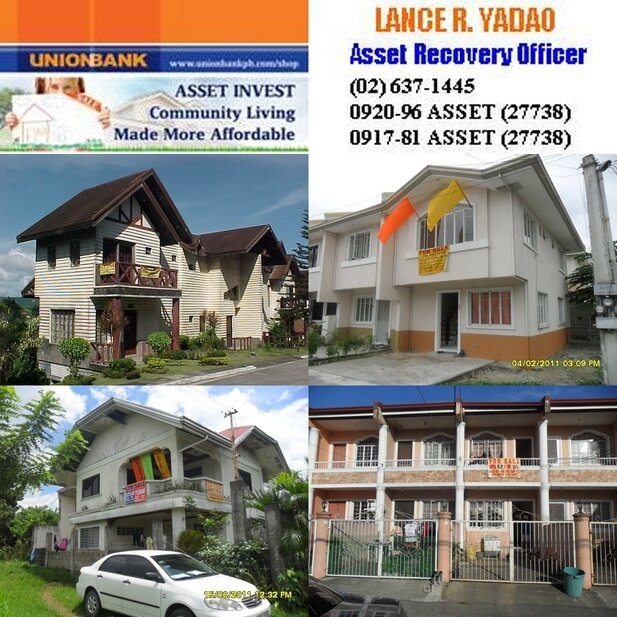 | | |
| --- | --- |
| Downpayment: | ONLY 10% DP (6 months to pay, zero-interest) |
| Interest: | Only 11% per annum (fixed for 15 years) |
| Term: | 15 years (maximum) thru in-house guaranteed financing |
Should you wish to know more about these properties, please contact
Mobile Nos. 0920-96 ASSET (27738) / 0917-81 ASSET (27738)
LANCE
or
ERIQ
or
DORIS
or
RAP
RONALD
or
GEL
JENNY
/
LUI
/
We look forward to seeing you at the auction.
Click on the flyer below to enlarge
Full details of properties with pictures below
---
---
Want To Contribute Stories/Features Click Here
---
---