Front Page
Balita Pinoy
Immigration Advice
OFW/PHL News
UK Immigration
Mindanao Cross
OFW Journalism
Foreclosure News
Press Releases
Video News
Embassy News
Archived News
Domestic Workers
Help Wanted
CV's/Work Wanted
Ressie Reyes
Migration Advisors
Advertise
Contact
Kalayaan
Missing Persons
Humor
World Remit
OrbitRemit
I Remit
Migration Lawyers
Bison UK
Scandals
About Us
Philippines Tourism
Savory Recipes 1
Dessert Recipes 1
Events
Philippine Cuisine
Services
Juana Change
Recipe Submissions
Wiki Recipes
Sinigang
Philippine Recipes
Shrimp Scampi
UK Immigration Free Advice
USA Immigration Free Advice
Irish Immigration Free Advice
Female
UK Trade Leads
Trade Leads
Free UK Immigration Advice On Permanent Residency March 22, 2012
UK Domestic Vacancy: Baby Nanny/Housekeeper, Central London (Mayfair) March 22, 2012
Pinoy Bayanihan In Barcelona Cafe March 23, 2012
A Pinoy Seafarer's Life Ashore After Years On Ships March 23, 2012
UK DOMESTIC VACANCY: Committed Couple For Housekeeping & Other Duties In Surrey March 25, 2012 UK Immigration News & Matters March 24, 2012 UKBA's Tier 4 Visa Shambles Exposed By British Parliamentary Watchdog March 26, 2012 Philippines' Stance On Tuna Fishing Could Backfire March 26, 2012 Maguindanao Massacre Godfather Pleads Not Guilty To Electoral Fraud March 27, 2012 UK DOMESTIC VACANCY: Child Friendly Housekeeper, Live-In, West London March 28, 2012 Applications Invited To Join Cultural Cruise On The Fuji Maru March 28, 2012 UK DOMESTIC VACANCY: Carer/Companion, South London, Live-In or Live-Out March 28, 2012 E-book Covers Traditional Easter Week Festivities in Marinduque Town Of Mogpog March 28, 2012 UK DOMESTIC VACANCY: Live-In Nanny/Housekeeper, South West London March 28, 2012 Free UK Immigration Advice: EU Citizen Married To Non-EU Spouse Moving To Britain March 29, 2012 Hong Kong's Filipino Domestics Lose Residency Court Action March 29, 2012 UK DOMESTIC VACANCY: Nanny/Housekeeper, Live-In, London March 30, 2012
Balita Pinoy's Wiki Recipes is a publishing platform that enables anybody around the world to discover, create and share recipes.
Recipes are the one thing that unite all communities.
The Mission is simple, allow everybody to send in recipes of any type. The collaborative web movement begun by such sites as Wikipedia has already shown that many minds are better than one. While the old saying that too many cooks spoil the broth may be true, a single source severely limits knowledge.
Find a Recipe - Submit a Recipe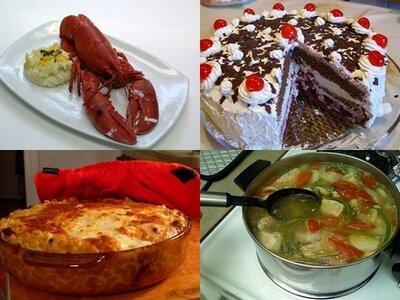 American Recipes
Asia-Pacific Recipes
Caribbean Recipes
European Recipes
Favorite Sites
Submit your favorite recipe, or one you have just created.
American Recipes
Asia Pacific Recipes
Caribbean Recipes
European Recipes
Middle Eastern & African Recipes