Latest UK Domestic Vacancies March 1, 2012
Latest UK Domestic Vacancies March 1, 2012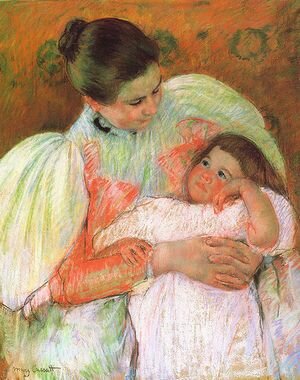 "Nurse": Painting of nurse and infant by Mary Cassatt, 1896-1897
Vacancies available: Housekeeping, Carers, Nannies, Cooks, Butler and Gardeners
All the vacancies are with direct employers, applicants will normally be need to have the right to work in the UK already - no fees will be charged to employees as this is illegal in the UK
LOOKING FOR DOMESTIC STAFF
Adverts for job openings are free to direct employers in Balita Pinoy, the UK's Filipino news website.
Click Here To Place Your Free Advert
EXPERIENCED LIVE-IN rota carer wanted near Newark. Driver essential. Tel.
---
---
LIVE-IN CARER for elderly lady in country house Angus. Cottage possibly available. Car driver. Simple cooking. Experience and references essential. Email:
Have You Been Affected Click Here
---
---
GENERAL HELPER/COUPLE sought for part time work at rural house near Marlborough. Ideally experience with horses, gardening, general maintenance and possibly child care. Detached 3 bedroomed cottage available. References essential. Tel. / Email:
---
---
YORKSHIRE - COUPLE REQUIRED for small, but high quality, self catering business, domestic duties, and property maintenance. Clean driving licences and love of dogs (springer spaniels) essential. On-site accommodation provided. Smokers need not apply. Reply with full CV to the Rudding Estate Office, Haggs Farm, Follifoot, Harrogate, N Yorks. HG3 1EQ Email:
---
---
I REQUIRE an experienced female live-in carer for my elderly grandmother in NW8, London. Email:
---
---
COMPANION/HELPER wanted for elderly lady living alone and option to help with domestic duties. Must have UK driving licence and references. Previous similar experience preferred. Live in on part time or permanent basis. North Lake District. Tel.
---
---
HOME HELP required: Part time for mother with disability to help at home and school run. Must be reliable, enthusiastic and show initiative. Clean licence, CRB and references required. Based in Surrey/Berks. Call 07974 097557 Email:
---
---
CARER SOUGHT. Full time. Rickmansworth. Please call 01923 770 730 / 07730 431 958 NANNY/HOUSEKEEPER required for our two children. Must be experienced and reliable with 2 checkable references. Position is live in - with ensuite bedroom. Pay will be approx 17500 gross per annum depending on experience. Apply to with names and contact details of referees
---
---
CARER/COMPANION required for elderly lady. Own bedroom and bathroom. Live-in Thursday PM - Monday AM. Near Dover. Tel.
---
---
EXPERIENCED COOK required. Cooking duties only for large family home in Windsor. Would like an interest in light, fresh, calorie controlled, healthy style cooking. Fish and vegetables specifically to be included. Applicant must be of a high dinner party standard of cooking and will include barbeques in the summer months. This position includes responsibility for food shopping and care of the kitchen. It is a 5 day working week with 2 days off during the week. Must be non smoker and able to drive. Self contained immaculate one bedroom flat. References required. Contact with CV & references:
---
---
HANDYPERSON/GARDENER/DRIVER required. We are offering a small, self-contained annex near Gatwick airport. Pay according to experience. Please forward a CV and photograph to
---
---
FULL TIME assistant Gardener/Handyperson for private garden in Cotswolds. Involves all aspects of gardening, paddock maintenance and handyperson duties. Salary dependant on experience. Email:
---
---
EXPERIENCED LIVE-IN CARER/Housekeeper for 92 yr cultured lady advancing dementia. Substantial day-help in place. Good bedroom/ensuite large flat Central Richmond. References. Email:
---
---
LIVE-IN CARER - 3 1/2 days rota in London N4. Must be experienced with progressive dementia for 83 year old man. CRB/references. Driver essential. Tel.
---
---
PERMANENT FULL TIME COOK REQUIRED for large country house near Peterborough. Qualifications less important than a flair for cooking. No dining room duties. Excellent terms and accommodation. Must drive. Apply by email or letter enclosing C.V and references to: S.Marshall Milton Hall Peterborough PE6 7AA Email:
---
---
LIVE IN DOMESTIC Couple required. Enthusiastic couple required for 8 bedroomed house near Chepstow, Monmouthshire. They will be responsible for all maintenance (electrical and plumbing) within the house and grounds including indoor swimming pool. They will be confident operating mechanical gardening equipment. Driving licence required. Their role is to be the sole housekeeper and maintain the house to hotel standard. They will meet and greet guests arriving at the house and look after them during their stay which may involve some cooking. As a couple they will maintain the garden and provide security. A flexible attitude to working hours is required at all times to ensure the smooth operation of the household. Accommodation is a one bedroom cottage. Salary to be agreed. Please only apply if you have experience working in a private house and have checkable references. Please submit your CV for consideration ASAP to Anne Griffiths, Atlantic House, Ground Floor, Greenwood Close, Cardiff Gate Business Park, Cardiff CF23 8RD
---
---
GARDENER REQUIRED. Self employed. Five and a half days per week.Must have mechanical knowledge of sit-on mowers and other gardening equipment. Duties to include grass cutting, tree pruning and general garden maintenance. Will need own transport. Please submit your CV for consideration ASAP to Anne Griffiths, Atlantic House, Ground Floor, Greenwood Close, Cardiff Gate Business Park, Cardiff CF23 8RD
---
---
PART TIME HOUSEKEEPER Rugby area. Live out. Monday - Friday, 9 -1pm. Tel Natasha
---
---
COUPLE REQUIRED - Suffolk. Estate gardening, minor maintenance, security, cleaning & laundry. Approx. 40 hours p.w. Must drive. Experienced, excellent references & CRB required. Separate 2 bed bungalow available in village. Salary by negotiation. Tel. Email:
---
---
EXPERIENCED HOUSEKEEPER/COOK Live-in NW3 Informal family (G8, 6, 1+ nanny) with large homes in Hampstead and France seeks ASAP professional, mature & child-friendly HK on longterm basis for running all household duties of highest standard including meal planning/cooking/baking for family and occasional entertaining (with help). Checkable experience, relevant working papers, fluent English, organised, positive, flexible approach, 5.5dpw, work in France 8wpa all essential. Very nice accommodation, kitchen, ensuite bathroom. Non-smoker. Apply to or call
Want To Contribute Stories/Features Click Here
3
---
---