Philippine News
Visayan Earthquake: 43 Dead, Search Goes On For Missing People
February 7, 2012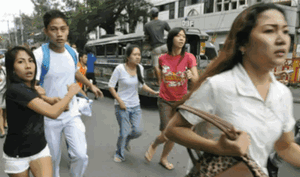 Panic in the streets - as the 'quake hit?
Rescuers in the Philippines continued to search Tuesday for dozens of people still missing following an earthquake that triggered devastating landslides and powwerful aftershocks.
[More - With Videos]
---
---
UPDATED: Tug-Of-War In London Court Over Iggy's Body
February 6, 2012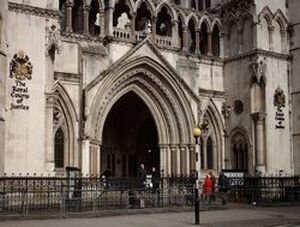 ?
The High Court in London was the setting last Friday as Grace Ibuna took out an injunction preventing Ignacio Arroyo's body being moved - much to the annoyance of the Arroyo family
In a dramatic twist to the "Iggy" Arroyo fiasco it can now be revealed that Grace Ibuna, Arroyo's partner at the time he died in the London Clinic, had taken out a High Court injunction last Friday in the British courts to prevent Arroyo's body being moved.
His wife, Alicia "Aleli" Morales-Arroyo, from whom he was estranged, had travelled to London accompanied by her lawyer, Lorna Kapunan, to claim the body to return to the Philippines for the wake and burial. They returned to Manila empty handed on Saturday.
[More]
---
---
2012 Civil Service Commission Examinations
January 30, 2012
by Carlo Lorenzo J. Datu
CITY OF SAN FERNANDO, Pampanga, Jan. 30 (PIA) -- Civil Service Commission (CSC) Regional Office 3 is now accepting applications for the first Career Service?Professional and Sub-professional Paper and Pencil Tests of 2012 which is scheduled on May 27. (Phone numbers below relate to Central Luzon, links at the bottom give details for entire Philippines)?
[More]
---
---
US Military To Boost Presence In PHL
The Philippines says it is considering a U.S. proposal to deploy surveillance planes on its territory to enhance Manila's ability to patrol disputed areas in the South China Sea.
[More]
---
---
"Iggy" Arroyo Dies In London
Ignacio (Iggy) Tuason Arroyo, Jr. has died in London. The brother in law of former President Gloria Arroyo, he was declared dead earlier today in a very brief statement made by the London Clinic which had been treating him.
[More]
---
---
Two Years In A US Hospital, Former Newsman Prepares To Fly Home
January 18, 2012
?
MHC CO-Executive Directors Grace Valera and Jesse A. Gatchalian with MHC Envoys Carl Abella and Jeannette Calahong visit former Philippine News Agency (PNA) Editor-in-Chief Diosdado Beltran at the Commonweatlh?Rehab (used to be Inova's) in Fairfax, VA
After two years stuck in a hospital near Washington DC,?Diosdado "Dado" Beltran, 67, a former news editor of the Philippines News Agency who survived a near-fatal stroke while visiting his daughter in the United States two years ago, is flying home on January 19, thanks to the Migrant Heritage Commission (MHC), a non-profit and non-government organization (NGO) based in Metropolitan Washington, D.C.
[More]
---
---
US Senators Support Philippines In S. China Sea Dispute
Four U.S. senators visiting Manila have been discussing the South China Sea territorial dispute and touting their support for the Philippines.
Arizona Senator John McCain reiterated the U.S. stance that...
[More]


---
---
?
UNESCO Condemns Killing of Journalists In The Philippines And Syria
??
The head of the United Nations agency in charge of defending press freedom condemned the recent murders of journalists in the Philippines and Syria.
[More]
---



?
?
?
---
---
Philippines earthquake - in pictures?
Fearful residents camp out
By Danny Dangcalan (The
Philippine
Star) Updated February 08, 2012 12:00 AM 0 BACOLOD CITY,
Philippines
- Residents in southern Negros Occidental camped out overnight and stayed in open fields and parks for fear of a tsunami after a 6.9 magnitude
...
Scant hope for Philippine quake missing
THOUSANDS of soldiers in the quake-hit
Philippines
are scouring villages buried under landslides, but authorities say hopes of finding dozens of missing people alive are dim. Two days after a 6.7 magnitude quake flattened homes, destroyed bridges and
...

Central Philippines earthquake update
Eddie DU1EV said 'They have established their command centre on board the
Philippine
Coast Guard search and rescue vessel BRP Davao del Norte. HEROs have been busy forwarding traffic from the disaster areas to Cebu and Manila.
Philippines earthquake kills dozens
The Cebu City area of the
Philippines
experienced a magnitude-6.9 earthquake on Monday. Aftershocks and tsunami rumors have led to further chaos in the area. Dan Balayo, Nazarene Compassionate Ministries Asia-Pacific's Holistic Child Development
...

On Our Radar: Quake in the Philippines - NYTimes.com
At least 88 people are dead and/or missing. The country has tried to upgrade its disaster-response capability in recent years but is regularly stretched by such catastrophes.
Philippines: More than 70 missing after earthquake-triggered ...
TAYASAN,
PHILIPPINES
(BNO NEWS) -- The death toll as a result of a powerful earthquake which struck the central
Philippines
on late Monday morning has risen to at least 15, officials said on Tuesday. More than 70 others remain missing.
?
?
---
---
?
Top HS grads called
The United World Colleges (UWC) is in search for top-caliber senior high school students interested in pursuing a two year international baccalaureate course abroad.
Applicants must be Filipino high school students in the top ten percent of their graduating class before August 2012. Selected candidates will be eligible to apply for a full or partial scholarship to UWCs in Hong Kong and Netherlands.?
Teams search for Philippine earthquake survivors

Rescue efforts are continuing after Monday's powerful earthquake in the central Philippines that left dozens of people dead or missing. Army teams were carrying out search operations, said Ver Neil Balaba, operations officer at the regional Office of ...

'Patrol ng Pilipino' bares Iggy Arroyo story

MANILA, Philippines -- ABS-CBN Europe Bureau correspondent Rose Eclarinal looks into the life of the late Rep. Ignacio "Iggy" Arroyo, the controversial younger brother of former First Gentleman Mike Arroyo on Tuesday, February 7, in "Patrol ng Pilipino ...
DNA tests on dead terrorists

By SEAN AUGUSTIN MALAYSIAN anti-terrorism police will be working closely with their counterparts in the Philippines to identify the remains of two terrorists, believed to be Malaysians, who were killed in an airstrike by the Philippines Air Force on ...

Luisita farmers thumb down new SolGen

MANILA, Philippines - The Hacienda Luisita farmers see a conspiracy in the appointment of Francis Jardeleza as Solicitor General. In a statement, the Alyansa ng mga Manggagawang Bukid sa Asyenda Luisita (Ambala) and the Unyon ng mga Manggagawang ...
6 notorious drug pushers arrested in Mindoro

CALAPAN CITY, Philippines - Six suspected drug pushers were arrested in a joint anti-drug operation in a notorious "shabu tiangge" in Oriental Mindoro. The operation was conducted by joint operatives from the Philippine Drug Enforcement Agency (PDEA), ...

Mike Appeals To Aleli, Grace: End Dispute For Iggy's Sake

By BEN R. ROSARIO MANILA, Philippines - Former First Gentleman Jose Miguel Arroyo Monday aired a strong appeal for an end to the dispute between the late Negros Occidental Rep. Ignacio "Iggy" Arroyo's live-in partner and his legal wife over his ...
44 killed in Philippines earthquake

PTI MANILA, 6 FEB: At least 44 people, including school children were killed today after a severe 6.8 magnitude quake hit the third-largest island in the Philippines and causing buildings to collapse and shutting down power supply.
PhotoBlog - Earthquake strikes central Philippines
A magnitude 6.8 earthquake off the central Philippine island of Negros killed at least seven people on Monday, including two children, with government offices and schools ordered to close after numerous aftershocks. Read the full story...
Philippines Seeking US Help Against China's Bullying

By Marwaan Macan-Markar BANGKOK, Feb 6, 2012 (IPS) - The government of Philippines President Benigno Aquino may be wading into choppy diplomatic waters by turning to the United States to counter China's aggressiveness in the South China Sea, ...
Philippine lawmaker seeks probe into US active role in military ops, use of ...

A member of Joint Special Operations Task Force-Philippines briefs June 7, 2011 John McHugh, secretary of the Army, about the use of unmanned aerial vehicles.(Photo Credit: Navy Mass Communication Specialist 1st Class Cassandra Thompson) MANILA ...
Philippines searches swamps for kidnapped Europeans

ZAMBOANGA, Philippines - Philippine troops were scouring mangroves on remote southern islands Monday as the search for two kidnapped Europeans intensified, security officials said. Hundreds of naval troops and Marines have been deployed to search for ...


?
---
---
?
Parksville man's wife dies in the Philippines

Araceli died in the Philippines Saturday after a long illness. By Auren Ruvinsky - Parksville Qualicum Beach News Last week, after a public appeal for help in The News, Stan Lowe was surprised and disappointed by the lack of response.
Wife flies to London to get Iggy's remains

By Rudy Santos (The Philippine Star) Updated February 02, 2012 12:00 AM 0 MANILA, Philippines - The wife of the late Negros Occidental Rep. Ignacio "Iggy" Arroyo was scheduled to depart for London via Dubai last night on board an Emirates Air flight to ...
BIR ordered to raise taxes of professionals, self-employed

By VG Cabuag, BusinessMirror MANILA, Philippines - Finance Secretary Cesar Purisima has told the Bureau of Internal Revenue to implement measures to drastically increase the average income-tax payments of professionals and self-employed this year.
Manila to host int'l confab on children and climate change

MANILA, Philippines - The Museo Pambata Foundation will host the 2nd Asian Children's Museum Conference from Feb. 2 to 4, at the Manila Hotel. The confab, themed "Children and Climate Change," will discuss how educators, parents and adults involved in ...
4 BPO Sectors' Leadership Targeted

By EMMIE V. ABADILLA MANILA, Philippines - The Philippine Information Technology-Business Process Outsourcing (IT-BPO) sector aims to lead in four more fast growth areas worldwide: Healthcare Information Management Outsourcing, Finance and Accounting ...
Massive die-off of fish in Philippines

MANILA, Philippines, Feb. 1 (UPI) -- Philippine officials say climate change is to blame for 49 tons of fish found floating dead in a lake in the country's South Cotabato province. The local Tilapia fish, being raised in 50 cages in Sebu Lake, ...
US banks to keep local jobs

by Roderick T. dela Cruz Two of the largest American banks have committed to retain their outsourcing operations in the Philippines, despite the recent announcement by US President Barack Obama discouraging outsourcing of jobs that now go to such ...
Table Quiz in Menlo Park Hotel to help victims of Philippines typhoon

By Declan Varley Victims of a massive typhoon which killed 1200 and left tens of thousands homeless in the Philippines just before Christmas will benefit from a table quiz to be held on Thursday next February 9 in the Menlo Park Hotel.
AP Interview: Kidnapped Filipino's daring escape

OLIVER TEVES, AP MANILA, Philippines (AP) - As his kidnappers took him in a speeding boat toward a notorious militant stronghold in the southern Philippines, Ivan Sarenas decided that he would die if he didn't try to escape. When he saw some fishermen ...
Bryan Adams cancels Philippines concert

The 'Run To You' singer was to perform at the Smart Araneta Coliseum in Manila on February 18, but has now scrapped the gig. Adams confirmed the cancellation on his Facebook page: "Bryan's concert scheduled February 18th in Manila has been cancelled.
Mother of student missing for five years seeks justice

... the arrest of former Army General Jovito Palparan Jr, the government should issue a shoot-to-kill order against him, said Erlinda Cadapan, the mother of Sherlyn, a student of the premier University of the Philippines (UP) who went missing in 2006.
Philippines: 3 wanted terrorist leaders killed

The Philippine military says it has killed three most-wanted leaders of the al-Qaida-linked terrorist groups Abu Sayyaf and Jemaah Islamiyah in the southern Philippines. Military spokesman Col. Marcelo Burgos says a military operation early Thursday on ...
Dutch, Swiss birdwatchers kidnapped in the Philippines
A 52-year-old Dutch birdwatcher, his Swiss travelling companion and their guide have been kidnapped in the Philippines, the AD reports on Wednesday.

Endangered turtle baby boom in Philippines - InterAksyon.com

Globally endangered green turtles are enjoying a baby boom on remote Philippine islands as a three-decade protection program starts to pay off, environment group Conservation International said Wednesday.

Capital News ? Kenyan woman jailed for life in the Philippines

NAIROBI, Kenya, Feb 1 - A Kenyan woman who was arrested last year in the Philippines for trafficking in narcotics has been jailed for life. Asha Atieno Ogutu, 24, was also ordered to pay a fine of three million pesos (equivalent to Sh5.8 ...

Ping: Mike A, Iggy have P4-billion deposits

By Marvin Sy, The Philippine Star MANILA, Philippines - Sen. Panfilo Lacson says he has documents to prove that former first gentleman Jose Miguel "Mike" Arroyo and his late brother Ignacio or Iggy each owned bank accounts containing over P2 billion.
---
---
?
Dutch film tackles child prostitution in PH
Both Groen and executive producer Jamilla van der Hulst were impressed by the performance of the Filipino cast. "I was really proud to be involved with this movie and I was very impress by all the Filipinos who were helping us with the movie.?
Piatco: No, NAIA-3 case isn't over
MANILA, Philippines - The builder of the Ninoy Aquino International Airport (NAIA) Terminal 3 said on Friday its legal battle with the government over just compensation for the expropriation of the airport is not yet over as the case is pending before ...
BI: 116059 Filipinos reacquire citizenship
By JUN RAMIREZ MANILA, Philippines - The Bureau of Immigration (BI) yesterday disclosed that more than 116000 former Filipinos reacquired their Philippine citizenship under the so-called dual citizenship law. Immigration Commissioner Ricardo David Jr.

China should punish Philippines over US military offer - China state ...
US opens talks to establish Philippines foothold
Washington has opened talks to establish a military foothold in the Philippines to counteract China's rise in the Pacific.
Voltaire Gazmin, the Philippines?defence minister, said the talks would plug gaps in its defences that have been exposed by China's increasing aggressive military.??
Washington is in talks with Manila about permanently basing ships and soldiers in Philippines, 20 years after it left.
With China preparing to deploy its first aircraft carrier, Manila is keen to have a US military presence in the Philippines as a deterrent to the might of the Chinese navy?
Oral sex increases cancer risk, doctors warn

MANILA, Philippines -- People who perform oral sex are at a greater risk of developing oral cancers, even higher than those who smoke and drink alcohol, local doctors and dentists said in a joint scientific conference. Members of the Philippine Medical ...

Philippines sets February date for Arroyo arraignment

MANILA: A Philippine court has ordered ex-president Gloria Arroyo to be arraigned over alleged vote rigging on February 20, with trial dates to be set soon afterwards, a spokeswoman said Wednesday. Pasay City Regional Trial Court rejected Arroyo's ...

?

In a decision, the appellate court's Sixth Division, through Associate Justice Amelita Tolentino, granted the petition of Edgar Lim, a Filipino incorporator of British Grand Vision International Co. Inc, the company behind the alleged illegal casino, ...

London's Lord Mayor set to visit Manila with business group

LONDON -- The state official representing the United Kingdom' business and financial center is slated to lead a business delegation to Manila in May, signaling what officials said was continued British interest in the Philippines. ...


?