Filipino Recipes 2 - Savory
Front Page
Balita Pinoy
Immigration Advice
OFW/PHL News
UK Immigration
Mindanao Cross
OFW Journalism
Foreclosure News
Press Releases
Video News
Embassy News
Archived News
Domestic Workers
Help Wanted
CV's/Work Wanted
Ressie Reyes
Migration Advisors
Advertise
Contact
Kalayaan
Missing Persons
Humor
World Remit
OrbitRemit
I Remit
Migration Lawyers
Bison UK
Scandals
About Us
Philippines Tourism
Savory Recipes 1
Dessert Recipes 1
Events
Philippine Cuisine
Services
Juana Change
Recipe Submissions
Wiki Recipes
Sinigang
Philippine Recipes
Shrimp Scampi
UK Immigration Free Advice
USA Immigration Free Advice
Irish Immigration Free Advice
Female
UK Trade Leads
Trade Leads
Free UK Immigration Advice On Permanent Residency March 22, 2012
UK Domestic Vacancy: Baby Nanny/Housekeeper, Central London (Mayfair) March 22, 2012
Pinoy Bayanihan In Barcelona Cafe March 23, 2012
A Pinoy Seafarer's Life Ashore After Years On Ships March 23, 2012
UK DOMESTIC VACANCY: Committed Couple For Housekeeping & Other Duties In Surrey March 25, 2012 UK Immigration News & Matters March 24, 2012 UKBA's Tier 4 Visa Shambles Exposed By British Parliamentary Watchdog March 26, 2012 Philippines' Stance On Tuna Fishing Could Backfire March 26, 2012 Maguindanao Massacre Godfather Pleads Not Guilty To Electoral Fraud March 27, 2012 UK DOMESTIC VACANCY: Child Friendly Housekeeper, Live-In, West London March 28, 2012 Applications Invited To Join Cultural Cruise On The Fuji Maru March 28, 2012 UK DOMESTIC VACANCY: Carer/Companion, South London, Live-In or Live-Out March 28, 2012 E-book Covers Traditional Easter Week Festivities in Marinduque Town Of Mogpog March 28, 2012 UK DOMESTIC VACANCY: Live-In Nanny/Housekeeper, South West London March 28, 2012 Free UK Immigration Advice: EU Citizen Married To Non-EU Spouse Moving To Britain March 29, 2012 Hong Kong's Filipino Domestics Lose Residency Court Action March 29, 2012 UK DOMESTIC VACANCY: Nanny/Housekeeper, Live-In, London March 30, 2012
The style of cooking associated with Filipino food has evolved over several centuries from its Austronesian/Malay origins to a mixed cuisine with many Hispanic, Chinese, American, and other Asian influences adapted to indigenous ingredients and the local palate.
Dishes range from the very simple, like a meal of fried salted fish and rice, to the elaborate paellas and cocidos created for fiestas. Popular dishes include lechón (whole roasted pig), longganisa (Philippine sausage), tapa (cured beef), torta (omelette), adobo (chicken and/or pork braised in garlic, vinegar, oil and soy sauce, or cooked until dry), kaldereta (meat in tomato sauce stew), mechado (larded beef in soy and tomato sauce), pochero (beef in bananas and tomato sauce), afritada (chicken and/or pork simmered in a tomato sauce with vegetables), kare-kare (oxtail and vegetables cooked in peanut sauce), crispy pata (deep-fried pig's leg), hamonado (pork sweetened in pineapple sauce), sinigang (meat or seafood in sour broth), pancit (noodles), and lumpia (fresh or fried spring rolls).
If you have a favorite recipe video, or have made one, click here - Recipe Submissions
ADOBO
Adobo is the name of a popular dish and cooking process in Philippine cuisine that involves meat or seafood marinated in a sauce of vinegar and garlic, browned in oil, and simmered in the marinade.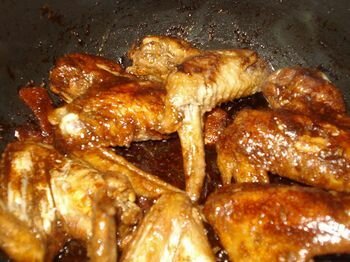 [More details & video recipes]
---
---
TAPA/TAPSILOG RECIPES
Tapa is dried or cured beef, mutton or venison, although other meat or even fish may be used.
The term "tapa" however, has mostly become associated more with this form of cured meat and tinapa (literally "made into tapa")
[More details & video recipes]
---
---
KALDERETA/CALDERETA RECIPES
Kaldereta is a popular dish in the Philippines, especially on Luzon island. The common ingredients are goat shoulders with tomato paste and liver spread; however with beef, chicken or pork as variations.
[More details & video recipes]
---
---
KARE-KARE RECIPES
Kare-kare is a Philippine stew. It is made from peanut sauce with a variety of vegetables, oxtail (mainly), beef, and occasionally offal or tripe.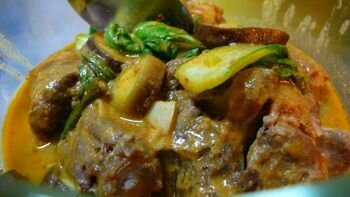 Meat variants may include goat meat or (rarely) chicken. It is often eaten with bagoong (shrimp paste), sometimes spiced with chili, and sprinkled with calamansi juice. Traditionally, any Filipino fiesta (particularly in Pampanga region) is not complete without kare-kare.
[More details & video recipes]
---
---
SINIGANG
Sinigang is a Filipino soup or stew characterized by its sour flavor most often associated with tamarind (sampalok)
Sinigang is traditionally tamarind based. Other versions of the dish derive their sourness from ingredients such as guava, calamansi, bilimbi, or raw mango among others.
[More details & video recipes]
---
---
PANCIT/PANSIT
Pancit or pansit is the term for noodles in Filipino cuisine. Noodles were introduced into the Philippines by the Chinese and have since been adopted into local cuisine.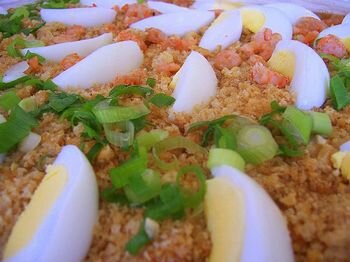 [More details & video recipes]
---
---
MECHADO RECIPES
Mechado is a beef dish from the Philippines. The addition of soy sauce and calamansi juice to the marinating liquid gives this recipe its distinct Filipino character.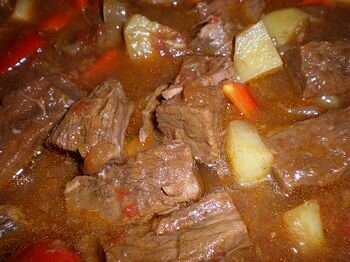 The traditional dish uses a Spanish culinary practice of threading strips of meat
[More details & video recipes]
---
---
Shrimp Scampi

Do you like seafood? How about trying this quick and easy Shrimp Scampi Recipe? With video
[More]
---
---
Do You Have A Story For Us?
---
---