Pinoy Bayanihan In Barcelona Cafe March 23, 2012
Amid EU crisis, Pinoy bayanihan ?brews in a Spanish cafe

by JEREMAIAH M. OPINIANO
OFW Journalism Consortium

BARCELONA, SPAIN-A FAIR-SKINNED man slides on the chair beside Rodrigo as the sun hides behind century-old houses and birds chirp from slender trees lining the Bracafe coffee shop here.
Rodrigo lets out a breath of relief, recognizing the man as Filipino who may have good news as Spain grapples with a debt crisis and migrant workers like him look for solace in places like the coffee shop.
At this al fresco caf?, which serves brewed Brazilian coffee at Ronda Sant Antoni in Barcelona's Paloma district, jobless migrant Filipino workers have found an informal base to trade information.
?
Have You Been Affected? Click Here
?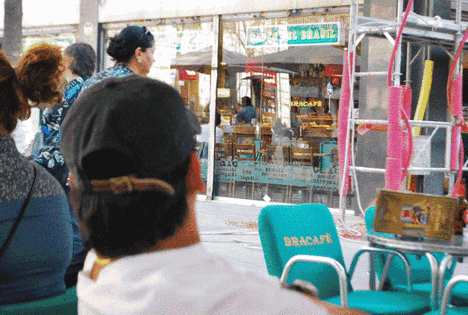 ?
"It's calming drinking coffee here," says Rodrigo, not his real name, who has been nursing his cup since three o' clock in the afternoon, nearly 90 minutes ago.
A young camarero or waiter casts a quick glance on the cup but waves at Rodrigo whom he may have recognized as a regular customer.

Stock of immigrants (2010) 6.9 million
Stock of country's emigrants (2010) 1.3 million
Estimated number of Filipinos (2010, as per the Commission on Filipinos Overseas)
52,611
Overseas Filipinos' remittances from Spain (2000 to 2011) US$650.532 million
Sources: World Bank-Migration and Remittances Factbook 2011; Commission on Filipinos Overseas; and the Bangko Sentral ng Pilipinas

Ever since Rodrigo, also a camarero, was laid off months ago from another restaurant, he has been frequenting Bracafe. He says doing so allows him to forget the ten years of working as a waiter and his current employment status or lack of it.
"Do I look worried? This is rest time for me."
His wife Aleta pats his hand and asks him to face up, which Rodrigo does, admitting he's been on a look out for a hosteleria job that a fellow Filipino may refer.
It's Aleta who's "slightly worried," he says, adding they have to pay for a condominium unit in Manila.
"That's our investment for the future," says Aleta who's currently working sa bahay, or cleaning homes.
The Filipino beside them sits up and hands a piece of paper to Rodrigo.
He introduces himself as Luisitio Santos and says he overheard the conversation and offers the name of the tapas store at the Port of Barcelona.
"Try this out. Maybe you can get that job I passed off," Luisito says and goes back to reading a newspaper and his coffee.
After thanking Luisito, Rodrigo grows silent, limning the future as Spain's debt problem impacts foreigners like him.
Media has written about queues getting longer at job centers or Oficina de Empleo and of shrinking purchasing power of the employed due to inflation as signs a storm is brewing and foreign workers are in its eye.
?
Fiesta in siesta
LOOK at them, Rodrigo says, nodding at the direction of Filipinos playing with their children at a nearby park.
"They're like me, like us, waiting for somebody to cast a helping hand or throw some leads," he adds.
Luisito drags his chair closer and joins Rodrigo and his wife under the maroon umbrella on the coffee table's center.
"Filipinos here are survivors," says Luisito, who works as a supermarket electrician and like Rodrigo, also frequents Bracafe. "They love their work here."
Luisitio says that there's no sense worrying about the crisis in the world's eighth largest economy.
We can't do anything about it, he adds.
"Besides, we have fellow Pinoys backing us up."
Indeed, Rodrigo says it was through Filipinos he learned about the paro, Spain's unemployment insurance handed out monthly up to two years until the jobless worker gets a new job. If Filipinos are permanent residents here in Spain and they get displaced, the paro's their savior.
While he earned over-?1,300 from his former restaurant job, Rodrigo's monthly paro stands at just above a thousand Euros since he availed of it ten months ago.
For those wanting to find new jobs, Filipino workers here give leads. That's what the Ilocanos do, with members of the hometown group Timpuyog ti Ilocano referring province mates to some restaurants and hotels or hosteleria needing workers-even at reduced rates from what Filipinos usually get in the past.
Other job referrals are for domestic work, which pays an hourly rate of ?8.50. If Filipinos do domestic work as fija-residing outside of the Spanish family's home-they can work in other Spanish households. Given the connections Filipinos here have with Spanish households, babysitting or cleaning residential homes, which they refer to as work "sa bahay", operates like a bustling informal market awaiting Filipino takers.
Ilocano Arlene Rallojay gets ?200 monthly for taking care of babies. "At least I have weekends off," says the former camarero who was displaced together with two other Filipinos and a Moroccan last January.
It is in the Bracafe sorties where Filipinos learn of other ways to stay employed.
Like Ernesto Gallano, a camarero at Bar Yanco in the famous tourist strip of La Rambla, who gets ?1,700 monthly.
He and a fellow non-Filipino worker stayed on there after two other fellow workers got booted out.
Not without a price. Gallano performs extra tasks that the two other displaced co-workers used to do. "At least I get more tips from customers," says the 57-year-old.
Some others, especially those living on paro, take the risk and do home-based work such as babysitting and cleaning homes.
Daniel Tua?o of the Filipino group Asociacion Filipina de Escritores e Investigadores en Espa?a, says, however, getting extra income while on paro is not allowed and may be detrimental to other migrant workers' lot.

Hold the beef
TAPAS stores lining up the 1.2 km. city sidewalk called La Rambla (in the heart of Barcelona) still have plenty of customers, as locals and tourists in the city seem upbeat even amid an unusually hot weather (28? Celsius) last spring.
Tourism, one of Spain's economic trump cards, seems to remain alive and well. The government said it eyes a million more tourists this year to add up to the over-53 million recorded last year.
But there's something hidden in La Rambla's throng of people: one out of five workers is jobless. In the first quarter of this year, they were said to be over 4.3 million, or 2.13 percent of the labor force. And many jobless workers have paro.
This has been the basis for some analysts to say that Spain's nearing membership in the "piggery," composed of crisis-stricken countries Portugal, Ireland, and Greece.
Spain's own mortgage crisis is as murky as a muddy pigpen, these analysts said. Job cuts are also mind-boggling as 130,000 jobless were recorded in the first two months of the year. Most of the unemployed, like camareros and employees of hotels and pension inns, came from the services sector.
"It has also been tough now for my employer to borrow money from the bank," says Filipino camarero Bong Carreon, who resigned from his work given his restaurant's layoffs and the additional responsibilities he got from the laid-off co-workers.
Not surprisingly, Filipino remittances from Spain went down in 2010 to US$69.776 million, from US$81.805 million in 2009, according to Bangko Sentral ng Pilipinas data.
The slide was attributed to the US$66.006 million land-based Filipino migrants in Spain sent in 2010, which was lower by US$11.641 million from 2009 figures.
While majority of Filipinos earn below ?1,999 monthly, says a recent survey by the Philippines-headquartered Scalabrini Migration Center, some Filipino workers here in Barcelona have brought their families with them and remit less frequently to loved ones in the Philippines.

Philippine Consul-General to Barcelona Eduardo de Vega also said the Spanish government has also stopped labor arrangements with some developed countries, including the Philippines, to hire workers for specific occupations.
Yet life goes on for the Filipinos here.
Echoing billionaire Bill Gates, Rodrigo says that "in real life, people have to leave the coffee shop and go to jobs."
OFW Journalism Consortium, in partnership with BusinessMirror
?
Want To Contribute Stories/Features? Click Here
76
---
---


?
?