Enviromental Matters
New Clothing Tests Implicate Global Brands In Release Of Hormone-Disrupting Chemicals Says Greenpeace
23 August 2011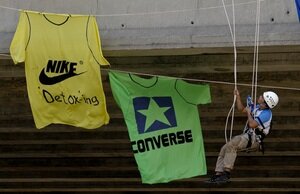 ?
Greenpeace activists executing a protest today at the Marikina River in Metro Manila ? Alanah Torralba / Greenpeace - more photos below
Marikina City/Beijing, 23 August 2011
The latest research into toxic water pollution released today by Greenpeace International reveals the presence of nonylphenol ethoxylates in clothing items bearing the logos of 14 global brands, including Adidas, H&M, and Abercrombie and Fitch.
The chemicals, which break down to form nonylphenol - which has toxic, persistent and hormone-disrupting properties - were detected in clothes bought and manufactured in locations all over the world, demonstrating that the use and release of hazardous chemicals is a widespread and pervasive problem with serious, long-term and far-reaching consequences for people and wildlife.
---
---
Greenpeace Fashion Show Hits Adidas & Nike as "Toxic"

Volunteer models don apparel sporting the Greenpeace demand for Nike and Adidas to detoxify their production. All photos ? John Javellana / Greenpeace
Quezon City, Philippines
Greenpeace today challenged Adidas and Nike to remove toxic chemicals from their supply chains and from their products. The demand comes as the result of a year-long investigation into toxic water pollution in China and how the chain of custody tracks back to the Philippines and other markets worldwide.
[More Photos & Full Report]
---
---
New Zealand Exporting Toxic Waste To Philippines
9 August 2011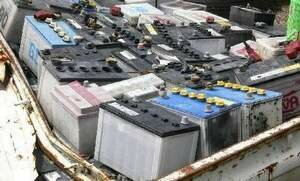 ?
Quezon City
Official Information Act documents recently passed on to Greenpeace New Zealand and published in Philippine media yesterday revealed that New Zealand has exported at least 50,000 tonnes of toxic wastes to the Philippines and South Korea since 2008. Used lead acid batteries were allegedly sent to the Philippines for recycling.
[More]
---
---
---
---
?Archived News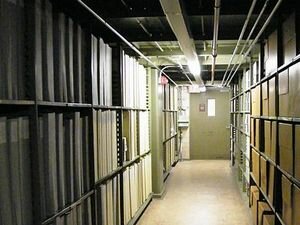 Think you have missed something?
Looking for an old story or feature?
[Search Balita Pinoy's News Archives]???
---
---
---
---
---
---
?