Citizen Journalism Section
DUTERTE TO FRONT THE NPA
The photo that says it all Photo Credit Ben O. Tesiorna ? Balita Pinoy
30 August 2011
Duterte is new NDF resource person
By Ben O. Tesiorna, Correspondent

DAVAO CITY - Davao City Vice Mayor Rodrigo Duterte was offered by National Democratic Front Philippines chair Luis Jalandoni to become one of their resource persons in the peace process with the Philippine Government.

[More]
---
---
Oil Slick Threatens Sarangani Bay & Shoreline
11 August 2011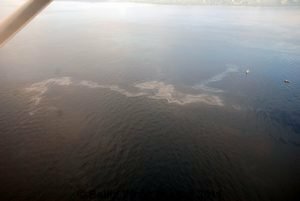 ?
SARANGANI
Report, photos & video?by Ben Jason Tesiorna
Oil slick is seen Thursday, August 11, in the vicinity where MV Bulk Carrier 1 sank Tuesday night after colliding with foreign cargo vessel HS Puccini off Matil Pt. in Lumatil, Maasim, Sarangani.
Posted at: 05:50 | 0 Comments | Add Comment | Permalink

|

|

del.icio.us
---
---
Two Ships Collide In Sarangani Bay, 2 Killed, 21 Survived
10 August 2011
With list of survivors, The scene of the mishap is approximately 3.5 to 4 nautical miles South West off Matil Point in Barangay Lumatil, Maasim
One of the 21 rescued crew members arrive at Makar Wharf aboard a Coast Guard vessel at 1pm. Wednesday (August 10). The injured were rushed by ambulance to a General Santos City hospital.
By Ben O. Tesiorna, Correspondent
Posted at: 02:59 | 0 Comments | Add Comment | Permalink

|

|

del.icio.us
---
---
Mayor Duterte Punches Court Sheriff During Shanty Demolition Fracas
10 hurt in Davao City demolition fiasco?- Court sheriff beaten up and led away?in handcuffs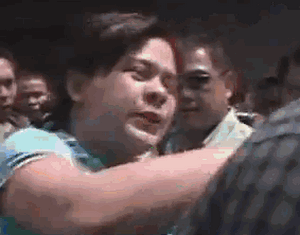 Sarah "Pacwoman" Duterte in action as she attacks sheriff
By Jessie L. Casalda
DAVAO CITY - Militant group Bagong Alyansang Makabayan (Bayan) has condemned the violent demolition in Soliman, Agdao District, this city that resulted in the wounding of 10 residents including a 12-year-old girl.
[More]
---
---
Davao City Flashflood: Death Toll Rises to 26, 5 Still Missing
By Jessie L Casalda?
P11 Million ?estimated damage - several bridges destroyed - list of fatalities and missing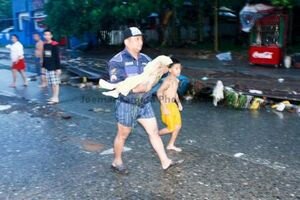 Davao City human tragedy: Rescuers find a dead child at the aftermath of the flashflood. (PIA-XI/Photo by Joemar Lamata)
DAVAO CITY - The death toll in the city's flashflood rises to 26 after a body of a 16-year-old girl was found along the beach line in Punta Dumalag at around 10:00 in the evening on Wednesday.
[More]
---
---
IP Communities Give Go Ahead For Controversial Diwalwal Mining Project
By Jessie L Casalda
DAVAO CITY - Unlisted Philippine mining firm Jake Mining Corporation has gained support from indigenous peoples in Compostela Valley Province to be their partner in investing and exploring the disputed 950-hectare tribal mining area (Trima) in Diwalwal, Monkayo, Comval Province.
[More]
---
---
CCTV Footage Captures Moment Cop Was Murdered In Mati City
CCTV captures rebel attack in Southern Philippines
Updated with a second video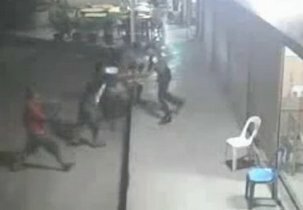 By Ben O. Tesiorna, Correspondent ??
MATI CITY, Philippines -- A close circuit television camera captured an attack of the New People's Army rebels at a lone policeman posted at a bus terminal. He died, but was able to kill one and wound another.
---
---
?
Flash Floods Kill 19 in Davao
Flooding damages and closes??Matina-Balusong Bridge
By Ben O. Tesiorna, Correspondent
DAVAO CITY - Nineteen people are confirmed to have perished in the latest flashflood to hit the city in the evening of June 28, 2011. Three thousand families were meanwhile affected in the flooding that is said to be the worst flooding to hit the city area in the recent years.
[Details & More Photos]
---
---
???
??
---
Balita Pinoy Launches Its News Agency To Cater For Citizen Journalists
Balita Pinoy?is?launching its news agency, which is essentially for?'Citizen Journalism' - the news service?where?you tell the stories.?Send us?your news stories, images and video.
These will then be placed up in Balita Pinoy, and also where newsworthy on a wider scale, will be offered to other agencies, newspapers and magazines for sale. The fees from such sales will be split 50:50.
There are many times every minute of every day when something happens and news reporters from the major agencies are not there on the scene to record it.
You may also have a story of your own local community or group you wish to get more exposure, send it to BPNA to get it aired.?
You could also be an established journalist who wants to get more exposure, or have a story their editor will not publish.??
[Click For Full Details]
---
---
ARCHIVES
---
---
---
---
?