Motoring Section
UNIONBANK: Sale Of 116 Cars
16 August 2011
The UnionBank are holding a sale of used cars.
Bids are invited?and all vehicles can be inspected prior to bidding.
There are a total of 116 cars offered for sale.
Full details of how to bid, vehicle location (Makati), terms and conditions
[More]
---
---
McLaren GT Racing Quietly Satisfied With Debut At Spa
3 August 2011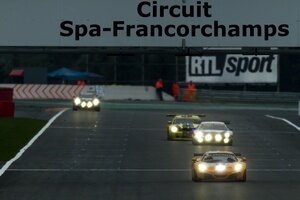 The development programme for the new McLaren MP4-12C GT3 saw McLaren GT enter three cars into the Total 24 Hours of Spa in Belgium?over 30-31 July 2011.?
Impressive lap times, successful integration of a future McLaren GT customer into the team at Spa, and the safety of McLaren GT driver and Project Manager Andrew Kirkaldy following a high speed incident, mark out a positive result for McLaren GT in its debut 24 hour endurance race.
[More & Stunning Action Shots]
---
---
McLaren To Race 3 Cars At Spa In Belgium
29 July 2011
Trio Of MP4-12C GT3 Race Cars To Star For McLaren GT At Total 24 Hours Of SPA
McLaren GT returns to the Spa-Francorchamps circuit in Belgium?this weekend for Total 24 Hours of Spa, following a successful race debut there in Belgium this weekend for Total 24 Hours of Spa, following a successful race debut there in the British GT Championship early in July.
The second race in the MP4-12C GT3's development programme will see ten experienced racing drivers pilot three cars in the 12C GT3's first ever 24 hour race. ?
[Details, Photos, Test Videos & Wallpaper]
---
---
?
Aston Martin Represented In Every Class At SPA 24 Hours
28 July 2011
Gaydon, England -?28 July 2011.
This weekend six Aston Martins will line up on the starting grid at Spa-Francorchamps for the Total 24 hours of Spa race, part of the Blancpain Endurance series. Four Aston Martin teams including Hexis AMR, GPR AMR, Ecurie Ecosse and Speed Lover will battle for 24 gruelling hours on the famous road circuit.
Official partner team Hexis AMR, who also compete in the FIA GT1 World Championship, will enter two GT3 DBRS9s in the Pro-Cup category. The number 3 car will be driven by French drivers; Pierre Brice Mena, Julien Rodrigues and Yann Clairay while the number 4 car will be driven by Henri Moser (CH), Stef Dusseldorp (NL) and Frederic Makowiecki (FR).
[More]
---
---
Maserati Unveils Its GranCabrio Sport
28 July 2011
Upgraded to 450hp, top speed of 285kph Maserati's GranCabrio?Sport shines?
Maserati has taken the GranCabrio convertible to a new level of performance with the new GranCabrio Sport.
With more power, a faster gearshift and a distinctively aggressive look, the GranCabrio Sport has given Maserati a harder-edged convertible to sit alongside the GranTurismo S and the Quattroporte Sport GT S as the performance flagships of their respective ranges.
Publically unveiled at this year's Geneva Motor Show, the GranCabrio Sport combines an upgraded 4.7-litre V8 engine with a 10 horsepower increase to 450 hp and improved fuel economy with the faster MC Auto Shift transmission.
[Details, Motor Show Video & Stunning Photos]
---
---
Residual Prices For Electric Vehicles Expected To Collapse
28 July 2011
Electric vehicles seen as clean and trendy are expected to re-sell at less than 20% of the original purchase price because of worried over the cost of replacement batteries
A FORECAST residual value of 20% for the first fully electric van, at 3yrs/30,000 miles, reflects conservative views in the trade over the future prospects for used electric vans.
Despite the benefit of extremely low running costs - which currently include a 100% Congestion Charge discount for operators in London - electric vans face being penalised in tomorrow's used market for a range of reasons.
The forecast for the Azure Dynamics Transit Connect is published in the latest edition of CAP Monitor - Future Residual Values for Commercial Vehicles, the independent industry benchmark for forecast used prices.
[More]
---
---
?