Illegally Trafficked OFW Murdered In Mongolia
March 19, 2012?
Probe mysterious death of Pinay domestic helper in Mongolia, relatives urge govt
She went abroad to job contracts that turned out to be undocumented by Philippine government agencies, but does this mean that her death would be left uninvestigated?
By ANNE MARXZE D. UMIL
Bulatlat.com
MANILA - Terril Atienza, 34, left the Philippines with high hopes that in working abroad, she could give her four children a better life. Her subsequent travails dashed her hopes.
It was in January 2010 when Atienza decided to work abroad. Her salary at the time, working as a dental assistant, and that of her husband, an electrician, were not enough for her family's needs.
Through the All-Pro Consulting and Staffing Services, Atienza got herself a tourist visa but she worked as a domestic helper in Singapore. After a year and a half, Atienza told her husband she wanted to go home but her agency in Singapore, the Regent Employment Agency, told her to finish her two-year contract first. She was subsequently sent to Mongolia, where her nightmare began. She later died under mysterious circumstances.
In her correspondences with friends and family, Atienza identified her employer as a certain Sergelen Davaakhu, allegedly the consul of Austria in Mongolia and a son of a former Mongolian Prime Minister. Atienza reportedly said her employer was often drunk and held rowdy parties at home every night. Her employer reportedly disallowed Atienza's use of her mobile phone and laptop. To keep her communication with family and friends, Atienza had to use her phone and laptop. She hasd to resort to using laptop and cellphone in secret.
?
Have You Been Affected? Click Here
?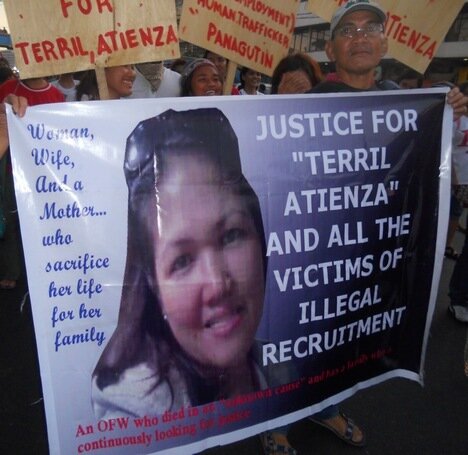 (Photo by Anne Marxze D. Umil / Bulatlat.com) ?
Four months into working in Mongolia, Atienza had sent only $184.37 to her family. On November 13, 2011, she called up her eldest daughter, Nyrriel, 16, and told her she would come home by December because her employer had not paid her wages in the last three months.
Ten days later, Nyrriel got a call from her mother's friend Karen Cruz, who was also working in Mongolia. Cruz reportedly told her she was worried because she was supposed to meet with Atienza on November 19 but Atienza did not show up. Cruz said that on the same day, Atienza's employer told her Atienza could not come because she was not feeling well.
But on November 21, Atienza's agency in Manila received an email from Atienza's employer saying her body was already in a morgue.
Initial autopsy reports from Mongolia indicated that Atienza died of "severe intoxication from an unknown source." A conclusive autopsy report from Mongolia is still pending following results from laboratory tests conducted on her body.
Atienza's body was flown back to the country last December 9, 2011.
Despite the autopsy report from Mongolia, her family in the Philippines still brought her body to the National Bureau of Investigation for another autopsy. The second autopsy revealed that her death was "probably secondary to hypertensive cardiovascular disease due to a stabbing incident".
Atienza's heart was missing, said the global alliance of overseas Filipinos Migrante International. Atienza's entire body was bruised, beaten and burnt.
?
The autopsy conducted by the National Bureay of Investigation (NBI) Medico-Legal Division further revealed that her other internal organs were "sectioned with missing portions". A rag was found inside her body.
Atienza's family went to Atienza's local agency, All-Pro Consulting and Staffing Services. A certain Violeta Bermudez told them they did not know that Atienza was sent to Mongolia. But the agency confirmed that the Regent Employment Services in Singapore which sent Atienza to Mongolia is a sister company.
The family also went to the Department of Foreign Affairs (DFA). But the DFA said they do not have any record of Atienza having been employed in Mongolia.
Most victims are women, domestic helpers
?
According to Migrante International, every month they monitor at least two such cases of mysterious deaths of OFWs. The group is handling nine cases of mysterious deaths at present.
Such cases of mysterious deaths often have women domestic workers as victims. According to Migrante International chairman Garry Martinez, "Women domestic workers are doubly exploited. They are most vulnerable to trafficking and abuse. Women domestic workers suffer slave-like conditions because of their defenselessness and the very nature of their work environment."
Martinez said cases of abuses get worse if the women domestic helpers are irregular or undocumented, like Atienza. "She was bound by a contract that turned out to be non-existent. Neither the DFA nor the OWWA nor the POEA had records of her having worked in Singapore or Mongolia, virtually exonerating her local agency in the Philippines and its counterpart in Singapore."
Migrante suspected that there was foul play in Atienza's death.
"A few days before women's day, we are again aghast and enraged at this latest injustice against our fellow Pinay. We join Atienza's family in calling for a probe on her mysterious death. We believe, based on the condition of Atienza's body when she arrived and the autopsy conducted by the NBI, that there had been foul play. We fully support Atienza's family in calling for justice and due punishment for her murderer," Atienza declared.
Martinez called on the DFA to take a more active stance and interest in Atienza's case because "a high-ranking person in a diplomatic position may have been involved."
"There should be an active intervention and clamor for justice from our government officials," said Martinez. He called on the DFA, the lawmakers and the Philippine Consulate in Mongolia to actively and aggressively intervene on behalf of Atienza's family."
?
Want To Contribute Stories/Features? Click Here
171
---
---



?
?