OFW's Returning From Syria Tell Of Terror In The Streets March 17, 2012
When violence in Syria escalated last year, the Philippine government ordered its citizens working there to return home, and more than 1,100 have. Reporter Simone Orendain met up with recent arrivals at Manila's international airport to find out about their experiences.

The line of chattering women pushing luggage trolleys is greeted by the jarring sounds of a remodeling project at the arrival lobby. This group of household workers have fled months of fighting in Syria's most embattled cities.
?
Have You Been Affected? Click Here
?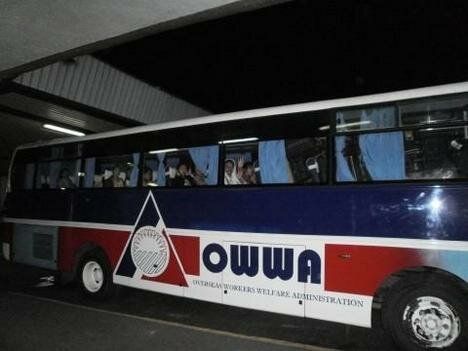 Repatriated OFW's wait to return to the Overseas Workers Welfare Administration halfway house where they will receive counseling after returning from conflict-torn Syria at Ninoy Aquino International Airport in Manila Photo Credit: VOA - S. Oredain? ??
Marcami Abdul Hari worked for a family in Homs for nearly five years. The 21-year old says she stayed with the same family because they treated her like she was their daughter.

"They were good people. They were good to me, but I came home because in Syria it is so scary, as in really scary," she said. "Everyone, everyone, even the older people and children, they are being killed."

On the streets of her neighborhood she saw people getting shot. Artillery razed her boss's home and many others nearby. ?

Abdul Hari remembers the peaceful time before the conflict started.

"Syria was beautiful. Then we saw all that fighting," she said. "It was really nice because soldiers did not enter the city. There was nothing bad there. Life was just quiet and happy."

When the violence escalated, Abdul Hari's bosses packed up for Saudi Arabia. They took her to an agency for Filipino workers where she would get help to return home. ?

Not all workers are able to escape as easily. This week the government confirmed that one 23-year-old woman was killed by armed gangs while traveling on a road in Homs with her employer.? ?

Marivic Pagbilao lived in Homs during the uprising, but her employer would not free her from her contract. One day, Pagbilao, 27, dodged a bullet while hanging laundry outside. She then decided to flee.

"I had given notice to my boss but he would not let me leave," she said. "[My friend] gave me the number to the embassy so I called and found a contact there that would help me. I left on my own from Homs. Two hours to Damascus from Homs."
Another domestic worker in Homs, Rita Gonzaga, said the fighting made everyone in her household a virtual prisoner.
"All we ate were potatoes because you could not leave," she said. "The shooting was right downstairs.? We were on the seventh floor and we could not even look out the window. One time we took a peek and a gun was pointed at us."
Gonzaga says the family she worked for moved from Homs to Damascus, but even there the violence was too much. Gonzaga says her recruitment agency forced her to stay by threatening her with being blacklisted if she left.
"I went to the embassy and then really tried to convince my boss, begged her," she said. "Oh, I had just had enough!"
Gonzaga did not give details of how she finally got away. But those assisting the workers say running away is not uncommon.
Karen, a stress-debriefing counselor at the Overseas Workers Welfare Administration, who asked to be only identified by her first name, says many of the women flee physical abuse and situations where their salary is withheld, sometimes for years. ?
For these workers, Karen says the conflict can be a blessing in disguise.
"It is sort of like a blessing that because of the chaos their employers went abroad or went to other countries and they were left so they were able to go to the embassy and seek help," she said, "some of the cases were like that."
Because many workers in Syria are on overstayed visas or working illegally, the Philippine government has struggled to locate them. Officials are urging relatives to come forward and help officials find stranded workers. ? ?
?
?
VOA News
?
Want To Contribute Stories/Features? Click Here
177
---
---



?
?