Toxic Chemicals In Clothes Alert March 21, 2012
New Greenpeace Research: Washing Big Name Brands Makes Consumers Polluters
Greenpeace today released evidence that hazardous chemical residues in clothing items sold by major brands are released into public waterways when washed by consumers. Upon entering our rivers, lakes and seas, these chemicals then break down into even more toxic and hormone-disrupting substances.
?
Have You Been Affected? Click Here
?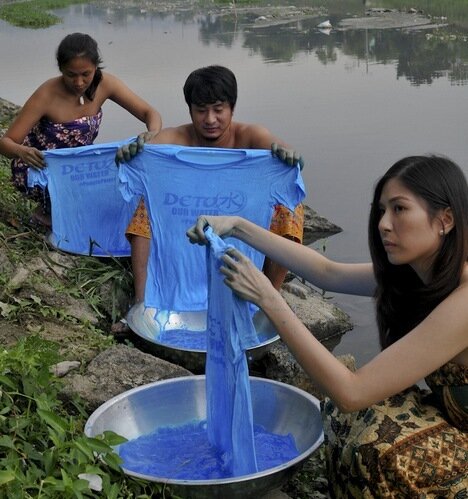 Greenpeace activists on the banks of the Marikina River in the Philippine capital Manila use food coloring to illustrate how toxic chemicals in branded clothes leach into our waterways when washed by consumers, as shown in studies conducted by Greenpeace and released today in its "Dirty Laundry: Reloaded" report.? Greenpeace is challenging the textile industry to lead the elimination of toxic chemicals in industries and the introduction of mechanisms respecting public's right-to-know about toxic discharges, such as a Pollution Release & Transfer Register (PRTR). (More photos below)
(c)Veejay Villafranca/Greenpeace?
The evidence is revealed in the Greenpeace report, Dirty Laundry: Reloaded, launched today by the banks of the Marikina River with activists visually demonstrating how toxic chemicals may leach from consumer garments and into washwater.? The launch is timed a day ahead of the commemoration of World Water Day, which highlights "water and food security," this year's theme.

The Greenpeace study measures for the first time the percentage of the hazardous chemicals nonylphenol ethoxylates (NPEs) washed out during simulated standard domestic laundering conditions of 14 items. The results show that consumer brands, such as Abercrombie & Fitch, Ralph Lauren and Calvin Klein, are unknowingly polluting the public water supplies in regions and countries around the world, including those where there are restrictions or bans on the use of these chemicals.
?
"While other countries try to improve measures protecting their citizens from hazardous chemicals, the Philippines is even steps behind in terms of regulations on hazardous chemicals.? Nonylphenols, for example, are banned in Europe for their endocrine-disrupting properties, and yet it is not even included in the Priority Chemicals List in the Philippines," said? Beau Baconguis, Greenpeace Southeast Asia's Toxics Campaigner.
?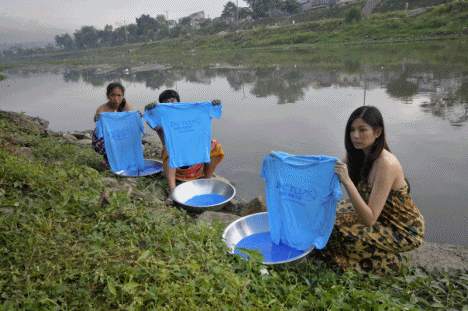 ?
"Filipinos are, thus, doubly vulnerable to toxic discharges - both from manufacturing processes and from consumer end-products.? This is the reason why we are calling for the institution of a mechanism respecting the public right-to-know about toxic discharges, such as a Pollutant Release and Transfer Register (PRTR), and for the textile industry to lead the move to safe alternatives to toxic chemicals," Baconguis added.

In 2011 Greenpeace published two reports: one investigating the discharge of hazardous substances from textiles manufacturing in China linked to major clothing and sportswear companies (Dirty Laundry), and another detailing the presence of NPEs in clothing and footwear of 15 leading brands (Dirty Laundry 2: Hung Out to Dry).? With the publication of these reports, Greenpeace challenged these global brands to eliminate all releases of hazardous chemicals from their supply chains and products by 2020. The call has led so far to public commitments by Nike, Adidas, Puma and Li-Ning, along with fast-fashion retailers H&M and C&A.
?
Given the scale of the problem, Greenpeace is calling for more brands to join the Detox challenge.? For the companies which have already committed, Greenpeace is demanding that they respond to the urgency of the situation by setting clear and ambitious short term deadlines for the elimination of the most hazardous chemicals.
?
Notes below are of references and additional material:
[1] Report available at http://www.greenpeace.org/international/dirty-laundry-reloaded
[2] For the lists of brands and products against the percentage of released chemicals check Dirty Laundry report Figure 1, page 6
[3] NPEs are chemicals used in textile manufacture. Even where wastewater containing NPEs is treated, this only speeds up the conversion into the toxic NP. More detailed information on these substances is available on page 12 of "Dirty Laundry II" at http://www.greenpeace.org/dirtylaundry2.pdf and on page 51, Box 2.2, of the "Dirty Laundry" report, available at www.greenpeace.org/dirtylaundry
[4] The tested sample consisting of 12 made of plain fabric and two samples of fabric bearing a plastisol print The items were part of the samples found containing residues of NPEs as specified in the report Dirty Laundry - Hang out to dry report is available at http://www.greenpeace.org/dirtylaundry2.pdf
[5] "The use of NP and NPEs in clothing manufacture has effectively been banned within the EU and similar restrictions are also in place in the US and Canada. In the EU, releases of NP/NPEs due to the washing of textile products imported from outside the EU have been estimated to constitute by far the largest source of these chemicals entering wastewater treatment facilities in some instances." Dirty Laundry Reloaded, Executive Summary, page 7.
[6] Dirty Laundry report is available at www.greenpeace.org/dirtylaundry
[7] Dirty Laundry - Hung Out to Dry report is available at http://www.greenpeace.org/dirtylaundry2.pdf
[8] So far six international brands have committed to Detox. These include:
Puma: http://safe.puma.com/us/en/2011/07/puma-is-committed-to-eliminate-discharges-of-hazardous-chemicals-2/
Nike: http://nikeinc.com/news/nike-inc-commitment-on-zero-discharge-of-hazardous-chemicals
Adidas: http://www.adidas-group.com/en/sustainability/statements/2011/Commitment_to_Zero_Discharge_Aug_2011.aspx
H&M: http://about.hm.com/content/hm/AboutSection/sv/About/Sustainability/Commitments/Use-Resources-Responsibly/Chemicals/Zero-Discharge.html
C&A: http://www.c-and-a.com/uk/en/corporate/fileadmin/templates/master/img/fashion_updates/International_Press_Releases/C-and-A_Commitment_to_Zero_Discharge.pdf