Ignacio "Iggy" Arroyo Will Released To Media
Front?Page
Balita?Pinoy
Immigration?Advice
OFW/PHL?News
UK?Immigration
Mindanao?Cross
OFW?Journalism
Foreclosure?News
Press?Releases
Video?News
Embassy?News
Archived?News
Domestic?Workers
Help?Wanted
CV's/Work?Wanted
Ressie?Reyes
Migration?Advisors
Advertise
Contact
Kalayaan
Missing?Persons
Humor
World?Remit
OrbitRemit
I?Remit
Migration?Lawyers
Bison?UK
Scandals
About?Us
Philippines?Tourism
Savory?Recipes 1
Dessert?Recipes 1
Events
Philippine?Cuisine
Services
Juana?Change
Recipe?Submissions
Wiki?Recipes
Sinigang
Philippine?Recipes
Shrimp?Scampi
UK?Immigration Free Advice
USA?Immigration Free Advice
Irish?Immigration Free Advice
Female
UK?Trade Leads
Trade?Leads
Free?UK Immigration Advice On Permanent Residency March 22, 2012
UK?Domestic Vacancy: Baby Nanny/Housekeeper, Central London (Mayfair) March 22, 2012
Pinoy?Bayanihan In Barcelona Cafe March 23, 2012
A?Pinoy Seafarer's Life Ashore After Years On Ships March 23, 2012
UK?DOMESTIC VACANCY: Committed Couple For Housekeeping & Other Duties In Surrey March 25, 2012 UK?Immigration News & Matters March 24, 2012 UKBA's?Tier 4 Visa Shambles Exposed By British Parliamentary Watchdog March 26, 2012 Philippines'?Stance On Tuna Fishing Could Backfire March 26, 2012 Maguindanao?Massacre Godfather Pleads Not Guilty To Electoral Fraud March 27, 2012 UK?DOMESTIC VACANCY: Child Friendly Housekeeper, Live-In, West London March 28, 2012 Applications?Invited To Join Cultural Cruise On The Fuji Maru March 28, 2012 UK?DOMESTIC VACANCY: Carer/Companion, South London, Live-In or Live-Out March 28, 2012 E-book?Covers Traditional Easter Week Festivities in Marinduque Town Of Mogpog March 28, 2012 UK?DOMESTIC VACANCY: Live-In Nanny/Housekeeper, South West London March 28, 2012 Free?UK Immigration Advice: EU Citizen Married To Non-EU Spouse Moving To Britain March 29, 2012 Hong?Kong's Filipino Domestics Lose Residency Court Action March 29, 2012 UK?DOMESTIC VACANCY: Nanny/Housekeeper, Live-In, London March 30, 2012
Ignacio "Iggy" Arroyo Will Released To Media
February 24, 2012
The will of Ignacio "Iggy" Arroyo has been released to the media as per the instructions of British High Court Judge Mr Justice Peter Smith at the conclusion of the Ibuna/Arroyo/Dignity court case which took place at the Rolls Building (Chancery) in London at the beginning of this week.
This is along with all documents associated with the case such as the witness statements of all those connected with the case.?
?
Have You Been Affected? Click Here
?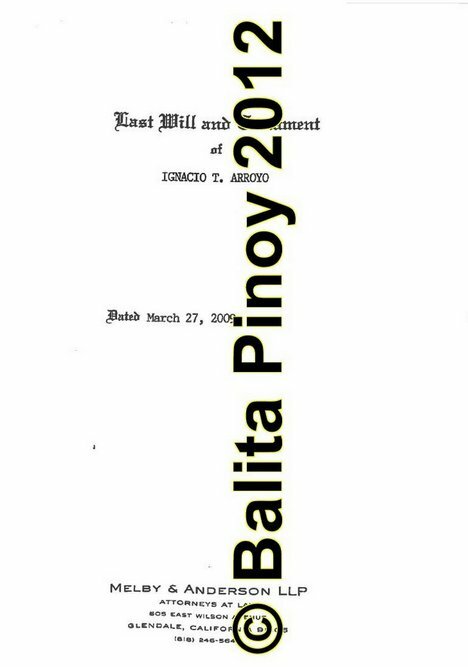 The front of the last will of "Iggy" Arroyo, drawn up in the US
They were released after a media request to the judge of copies was originally denied by the legal teams. Judge Smith then made his instruction of release of all documents that were in the public domain. (This normally happens in UK court cases except where there is a security aspect or children are involved) ?
With such a mass of information, it will take time to analyse, so Balita Plans to publish all the info on Sunday, but we are giving a brief summary here.?
There is no bequest to "Iggy's" second wife, Alicia " Aleli" Arroyo; in fact she is not even mentioned.
The bequests are tied up in a trust in California, with Grace Ibuna receiving income for her lifetime, but not the capital. At the death of Grace, the income is then split equally between the three children of "Iggy", that is Bernadina and Marie from his first marriage, and Alelu from his second marriage.
Interestingly, anyone who challenges the will will get only one $US dollar.?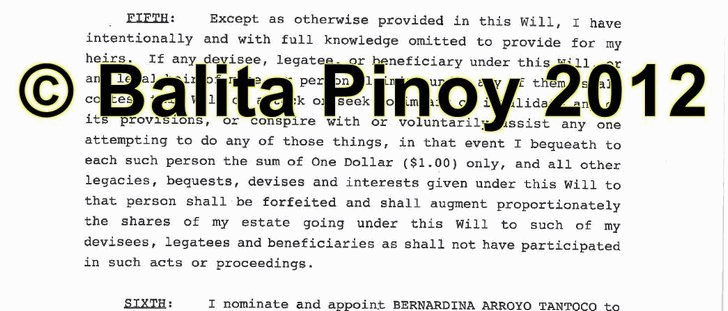 ? ? ? ? ? ? ? ? ? ? ? ? ? ? ? ? ? ? ? ? ? ? ? ? ? ? ? ? ? ? ? ? ? ? ?
?
There is no mention of anything in the Philippines. ?
Click To View The Complete Will?
?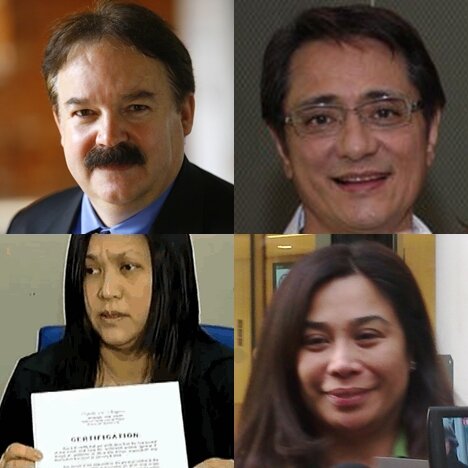 Top left clockwise: Mr Justice Peter Smith, Ignacio "Iggy" Arroyo, Grace Ibuna, Alicia Arroyo?
?
Want To Contribute Stories/Features? Click Here
365
---
---



?
?