Iggy Arroyo's Will Drawn Up In California
Ignacio Arroyo's Will
Have You Been Affected? Click Here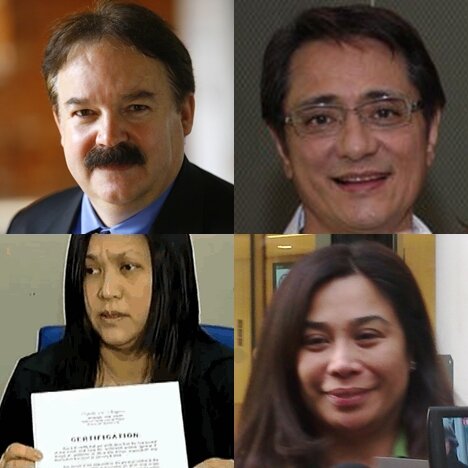 After a request by the media, British High Court Judge Mr Justice Peter Smith (above left) granted permission to view and have copies of all witness statements as well as the last will and testament of Congressman Ignacio Arroyo (above right).
These had been introduced as evidence in the injunction (Temporary Restraining Order) case brought before the High Court in London over who had possession of the remains of "Iggy" Arroyo.?
Grace Ibuna (lower right), "Iggy's" partner for several years, was with him at the London Clinic when he died. She had started the procedure to repatriate the body back to the Philippines when Alicia "Aleli" Arroyo (lower left) arrived in London to claim the body as his wife.
The dispute ended up in the Chancery Division of the High Court in London leaving a bill in excess of ?94,000GBP or more than 6 million pesos.
Under British law, all evidence that is in the public domain is able to be reproduced, and in open court Judge Smith expressed his hope that the documents referred to would be placed in the public domain both in the UK and the Philippines.?
Attached to the will is the Enduring Power Of Attorney "Iggy" Arroyo made in favor of his daughter Bernadina Arroyo-Tantoco to administer his affairs and estate.?
The Will Of Ignacio "Iggy" Arroyo
Brief Description
Sample Photo 4
Power Of Attorney Handing Control To Bernadina Arroyo-Tantoco
?