ARROYO's BODY: Lawyer Hints At Criminal Charges Against Grace Ibuna
ARROYO's BODY: Lawyer Hints At Criminal Charges Against Grace Ibuna
February 15, 2012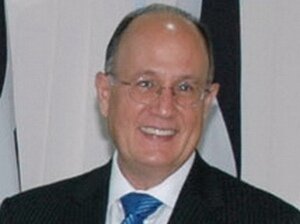 ?
The high profile arrest this morning of?Francisco "Pacqui" Miranda Ortigas III (above) at the Philippine Stock Exchange has brought into sharp focus the battle between Ignacio "Iggy" Arroyo's wife, Alicia "Aleli" Arroyo, and his lover, Grace Ibuna (below right with "Iggy"), over "Iggy's" body which is being fought in a London court.
Ortigas' arrest was for the charge of "concubinage" as a result of a complaint by his wife. The reason it is such a high profile case is that "Pacqui" Ortigas is extremely wealthy and was formerly Ambassador to Mexico.
?
Have You Been Affected? Click Here
And the reason it has brought into focus the "Iggy" Arroyo case is after a letter was sent to Balita Pinoy by the law firm Kapunan, Garcia & Castillo, who are representing "Aleli" Arroyo, just as news of the Ortigas arrest was breaking in Manila.
The letter was sent originally to the London law firm of Harris & Co who are representing Grace Ibuna (below left with lawyer Lorna Kapunan) in the Chancery Division of the High Court, in her battle to control the remains of "Iggy" Arroyo. Ibuna took out an injunction in the High Court against "Aleli" Arroyo and the funeral parlor of undertakers JH Kenyon preventing the body being moved. This case is to resume at a hearing next Monday in London.
?
It was expected that "Aleli" and her lawyer Lorna Kapunan would return to London after securing a certification from the Quezon City Regional Trial Court that the marriage was valid and that there had been no annullment. They had left London hastily as they learned of Ibuna's injunction preventing movement of the body.
Previous stories:
Tug Of War In London Court Over Body

Iggy's Body Stays On Ice?
However, according to what is written in the letter, they will not be returning to attend next Monday's hearing as she [Arroyo] is nearly destitute.?
In the letter, which is signed by three lawyers including Lorna Kapunan (reproduced in full below), brings to Ibuna's attention the possible charge of concubinage (effectively adultery) and of potentially breaking other Philippine laws by allegedly misrepresenting herself as the wife and next-of-kin of "Iggy" Arroyo.
It is this alleged misrepresentation which may be decided in the High Court in London next Monday as a British judge has ordered Ibuna to produce a signed special power of attorney confirming she has the right to dispose of the body.
What will be an interesting scenario of what happens is if the judge decides that Ibuna's proof is not sufficient, as Aleli's lawyer has already indicated that they are not going to attend the hearing. There are rumors that one or two of "Iggy's" daughters may attend the hearing.
It may be that Ibuna's injunction will actually lapse and the funeral parlor will have the right to send the remains to the Philippines without the involvement of Ibuna.?
?
?
?
?
?
Want To Contribute Stories/Features? Click Here
86
---
---


?
?